The London Marathon was due to take place Sunday 26th April 2020. A highlight in the calendar for runners, record-breakers and fancy-dress enthusiasts. And of course, sports massage therapists. Like most major events, the London Marathon has been postponed because of the coronavirus. It will now take place on Sunday 4th October, in what will be the first-ever autumn edition of the race. The marathon is not only a day for race-goers and watchers, but an invaluable experience for sports massage therapists to demonstrate their skills and network with other therapists.
Before the London Marathon, Britain's long-distance running scene was low-key. Races took place in rural areas and were watched by very few. The idea of an urban race as a cosmopolitan spectacle was ambitious to say the least. After competing in the New York Marathon, the distinguished runner and now director of the London Marathon, Chris Brasher, outlined that London had a "magnificent course, but do we have the heart and hospitality to welcome the world?".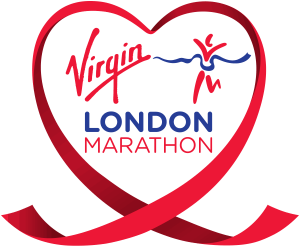 The first race took place in 1981 with 20,000 applicants. Since then, 1million people have crossed the line and in 2019, the milestone of £1billion raised for charity was passed. The London Marathon now represents heart, hospitality and so much more.
This Sunday, the streets of London will be silent and empty. But as the above numbers show, London is a running city, and Britain a running nation. It will return, and more than likely, be more popular than ever. Coronavirus has galvanised a new generation of runners: old; young; fast and slow, I see so many more people running these days around my neighbourhood, grateful to get out and be physical. When major sporting events – like the marathon – return, we massage therapists must be prepared to deal with these new and veteran runners alike.
To help, I've put together some advice to help massage therapists with post-event work. Large-scale runs are hard work. Working hours are long, often in poor conditions with little financial reward to show. But they are also an invaluable glimpse into what it takes to be a successful sports massage therapist. By implementing this advice, it will ensure you get the most out of your post-event work.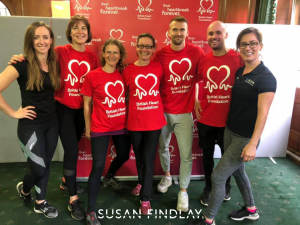 Understand Your Athlete
It sounds obvious, but familiarising yourself with the person in front of you is essential. Different athletes require a variety of techniques. Understanding the type of event and the athletes' level of experience is the best way to gauge what approach to take. If possible, you should allow time for consultation and ask appropriate questions to rule out symptoms and influence how you treat them. This may include asking them to identify areas of pain or soreness; whether they feel hot, warm or cold, or if they have any pre-existing medical conditions, your usual contraindications apply here. If, for example, it's their first marathon they may not have received sports massage before, hence, your session might need to be shorter so as not to place further demands on a runner that has already used up all their reserves in order to finish the race,  post event massage is about recovery, so in this case less is more. Novice runners can be more susceptible to strains, sprains, spasms and stress fractures. Keep your eye out for symptoms that would indicate there is a new injury present.  Heavy treatment of these can exacerbate the problem. Different events will attract different athletes – understanding yours can make all the difference.
Be Organised
The key to an effective post-event session is organisation. It's vital to understand the event itself. The nature of the event will determine how you approach it. If it's a series of events – like the 3 Peaks or back-to-back marathons – treatment should be adapted to these circumstances. Effective communication with event organisers is the best way to ensure things run smoothly. Do the research: the size of the event; the number of runners in the field; who to refer to for medical assistance; whether you can charge clients. I often pack myself some essential things like a quick snack, extra hand wipes or a clean top. These are all valid ways to prepare for what is likely to be a non-stop, long shift.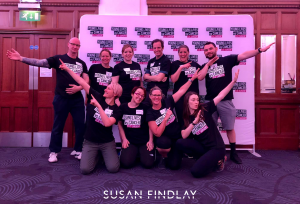 Make the Most of the Opportunity
Whether it's one of your first, or one of many events, it should be used as an opportunity to network and promote your service. For graduates it's a chance to get your foot in the door – talk to people, absorb expertise, listen to stories and improve your understanding of how to operate at events. For the more experienced massage therapist, events are still very much marketing windows. If you're a team of therapists, distributing freebies like t-shirts is always a popular way to get your name out there. Little things, like where you set up your area, also make the difference. You should be central and at the heart of the activity – not tucked away in the corner. You also should have your business cards laid out for participants to pick up, or put together a leaflet listing your tops tips to help achieve a more successful recovery.   Events are hard work, but in the long-run they are worth it.
Look After Yourself and Your Client
It is likely you'll find yourself in some challenging conditions. Rain, wind, heat – the lot. Managing these conditions is essential for both your athletes' comfort and your own ability to work. In rain or sun, a covered area is always a good idea. Allocating a seated registration and waiting area, or small things like providing blankets are also key to making your clients feel at ease. It also displays professionalism and shows that you genuinely care.
Be Gentle
Remember, you are an assistant to support the tissue's return to a healthier state. In post-event work, it's really about choosing techniques that will assist in the recovery of the tissue. The events are often intense, and there will be greater physiological stress in a marathon. Trust your hands to give you necessary feedback, but be sensitive, mindful of tissue damage and generally use slower and lighter movements (this does not mean fluffy, it is about responding to what you are feeling). Brute force in marathon circumstances will not achieve the best outcome. So, just remember that at these types of events, you are the assistant. Rest and recovery will handle most of the work.
While the London Marathon is the ideal event to put this advice into practice, unfortunately we'll have to wait until October. The coronavirus has motivated many people to dust off their running shoes. When the virus does subside, it's likely more people will be running as a result. As sports massage therapists, we're going to be a lot busier. If you have any questions regarding the above advice, please feel free to get in touch.