You can make a difference. 
Qualify as a certified oncology massage therapist by joining me on my online course and 3 day practical workshop. 
This course focuses on developing your understanding of common conditions and how to manage the complexity and support your clients journey.
Learn how to modify your existing techniques along with some new ones specific to these conditions.
Support your client's needs.
A cancer diagnosis can be extremely traumatic, patients are often suddenly faced with their own mortality, and an uncertain future.
Whether you are treating a client who has had a previous diagnosis years in the past, or those who are currently receiving treatment, this course will teach you the skills that will enable you to approach an oncology massage treatment with confidence.
Work confidently and with ease.
Developing your hands on skills is a priority. This course will teach  you how to work effectively and with ease.  It will enhance your palpatory skills, your biomechanics which ultimately will lead to a more effective connection. 
Cancer is no longer a contraindication. Let me explain the aims of an oncology massage.
Find the course breakdown in full below, along with all pricing options and course dates. 
The complete workshop (practical and online) is fully certified, accredited and approved by:
Three amazing days with Susan on the Oncology Massage training course in Bristol. What an inspirational person, I learnt so much and am really excited about developing oncology massage in my practice. Thank you so much Susan!
I have just finished my Oncology massage course and I can't thank Susan enough for the course. It has enabled me to feel confident in helping clients with cancer but also to bring some additional techniques and tools to my existing clients. Susan is professional, friendly and has empowered me with so much. Thank you
I think Susan may be my new hero! So knowledgeable, I could only aspire to be as wise one day. I have just completed my final day of the oncology massage workshop and it has completely changed my mindset. After becoming so stuck in my ways, I had lost connection with my own touch. this course has encouraged me to start feeling with my heart and my hands and not just my head. I am so excited to start my journey into oncology massage, thank you for this opportunity Susan.
I have just completed the 3 day Onoclogy course via zoom. While usually I am apprehensive about completing courses on zoom, especially practical ones, Susan was able to deliver the course in a way that felt like we were in a room with her. I would highly recommend anyone looking into doing an oncology massage course to do Susan's. I am sure I will be joining her for more of her courses in the future.
The whole course has been an incredibly rewarding experience. Susan's depth of knowledge, compassion and drive to help those suffering from cancer and grace in sharing her knowledge is exceptional. There isn't anything I would change about the course. I can't recommend it highly enough.
I have completed oncology massage with Susan and it was brilliant! Although practical session were done via zoom, Susan's trained eye and feedback was great for practice sessions. Susan's professional skills and knowledge is beyond compare and I have learnt so much more that I expected. Thank you Susan and hope to see you in person on a future course.
Read all reviews for Susan here. 
This course is broken down into an online portion, and a three day practical workshop. You can choose to do just the online, or both the online and practical (course date options below). 
The online workshop can be completed as a stand alone module if you want to understand the basics of how cancer forms, learn about the research behind oncology massage, understand the different types of treatment and their side effects including the disease process itself.
3 Day Practical Workshop & online course all inclusive - £499
If your goal is to become a certified oncology massage therapist you need to complete the online course, and the 3 practical days.
Time: 9am – 5pm
Location: NLSSM, The Hub
Unit 3i & 3J,
25 Ashley Road,
London,
N17 9LJ.
Time: 9am – 5pm
Location: Anywhere! This course takes place online via Zoom. 
*Please Note: For the courses taking place over Zoom, students will need a client to treat in the afternoon of each day. This client can be a friend or family member and does not need to be an oncology client.  Registration needs to take place 10 days prior to the start date. 
Click the Buy Now button below to choose which date you'd like to attend and make your payment. 
NEW: Paying by Paypal?
You can split the cost over 3 months, with their Pay in 3 option (Paypal T&Cs apply). Just choose PayPal at checkout. 
Practical Workshop Day 1
Practical Workshop Day 2
Practical Workshop Day 3
Practical Workshop Day 1
This day is all about preparing you for the real thing, starting with taking a comprehensive case history to develop your manual skills to meet the needs of your clients. Understand your role as a soft tissue therapist, what your remit is and when to refer. 
33 Questions to ask your Oncologist – a supportive discussion about how to communicate and work with the medical team effectively.  
This can include modifying your existing techniques and introducing a few new ones to accommodate your clients' stage of health and diagnosis, as well as positioning your client based on their condition. 
Manual techniques and their modifications, these will include effleurage, petrissage, shaking, rocking, vibration, compression, distraction, mobilizing and stretching, along with the underpinning knowledge about their efficacy, when and how to use them at different stages of health.  
An introduction about the concept of MELT, often referred to as a 'mindful touch'. How to achieve a depth that is both beneficial and appropriate.  
Todays case studies include lung, breast, prostate and kidney cancer.
Emotional prep work, consider your own mental health ensuring you have a support system in place.
How to improve your environment & work with current PPE protocols.
Legal implications, consent, and intake forms.
Appropriate massage mediums.
Practical Workshop Day 2
Practical Workshop Day 3
Included in the Practical Workshop is a goodie bag containing some things you'll need for the course such as; massage wax, notebook, softballs and a feather.
If you choose a zoom course, your box will be sent one week prior to the start date. Only available for those living in the UK.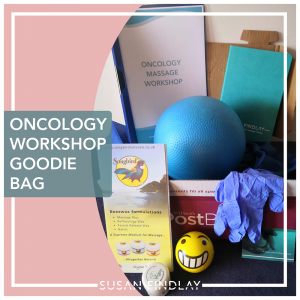 ONCOLOGY MASSAGE WORKSHOP FAQ'S
Sign up to my newsletter & Massage Mondays
Get my latest video straight to your inbox, every Monday!


The Hub,
Unit 3i & 3j,
25 Ashley Road,
London,
N17 9LJ
info@susanfindlay.co.uk
020 8885 6062