If you are coming by public transport, you can check your travel options using the Transport for London journey planner or you can create detailed directions for travelling by car or on foot using the Google map above.
Tube & Train to North London
If you are coming by tube or train and disembarking at Seven Sisters, follow the West 1 exit sign posted for White Hart Lane and the High Road. Turn left out of the station and left again at the junction of Seven Sisters Road onto the High Road. You will be facing towards the college of The College of Haringey, Enfield and North East London, Tescos will be across the street on your right, stay on the left side of the road, walk past the college and the left hand fork in the road onto Town Hall Approach Road. (This will take approximately 3-4 minutes). You will come to the Old Fire Station on the left with big red doors and on the right is the Old Town Hall, between these two buildings are wrought iron gates, walk through the gates, in front of you is another smaller red door with signage 'NLSSM The Annexe'. You've arrived!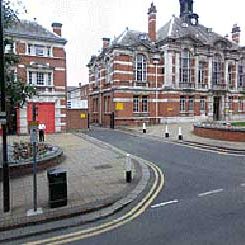 Sign up to my newsletter & Massage Mondays
Get my latest video straight to your inbox, every Monday!


The Annexe,
The Old Fire Station
Town Hall Approach Road, Tottenham,
London N15 4RX