You may have noticed that I've recently upped the ante when it comes to writing blogs and social media postings. These days I try to post at least one blog a week, share my Massage Mondays and upload something that has either a personal interest to me, or I think might benefit you. Engaging on social media was not something that came naturally for me, I have never been a fan, hence, you can still see the heel marks in the ground while holding onto the idea that I didn't need to engage. For years I resisted the idea that I needed to interact on social media. I am sure many of you feel the same way and are not convinced or understand what social media can do for you. In this blog, I'd like to elaborate on my reasons for doing this, and hopefully give those of you who manage your own private practices some useful pointers.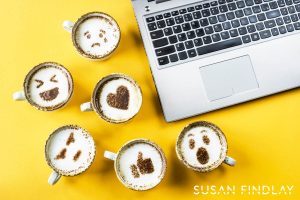 Time Pressure
We all live busy, hectic lives. Rushing from one thing to another, trying to fit in work, a social life and further learning, least of all trying to find the time to understand how social media works and what constitutes an effective and engaging post. When I wrote a book, outlining all the necessary massage skills and techniques a therapist could need, it was during a time that most people referred to the written word or attended workshops to further their skills, however, it occurred to me that most of us don't have time to sit down and read a whole book, just to find useful and relevant learning material, hence the creation of my Massage Mondays. As a teacher I understand that we all learn in a number of different ways. For some of us, video is a better medium, whereas others like to be able to read something (I do like the smell of a new book). Therefore, I decided that one of the best ways to ensure that therapists could easily access the information, would be to break up my book into bite-sized chunks in a number of formats. It started off with writing for industry specific periodicals, then it evolved into video form, one of them being my Massage Mondays, and most recently the blogging, was born. It is my hope that, with these free resources, therapists will be able to select what is useful to them, and leave the rest. Giving things away for free is an essential part of how to build your social media relationships, information about bettering your skills and furthering your careers is a win win situation for both you and me.
Connection
Unless you work in a massage clinic, or in a day spa, a career as a massage therapist can be fairly isolating. We don't generally have the work relationships with colleagues that other careers may have. Of course, we have our clients, but it can take time to forge proper relationships with them, as they are normally not with us for more than an hour or so a week at most. Social media posting offers me a way to connect with the incredible online community of therapists. I can share my thoughts and opinions, offer and receive advice, and keep abreast of what is happening within the industry. I do however have a top tip that you should always remember: whenever you post, or respond to a post, do it for the edification of the other person. You do not have to prove how smart you are, or how wrong they might be. While communication is key in building your presence, anything that is thoughtlessly or carelessly said might turn people away and could damage your reputation.
Signposting
I am fortunate enough to have reached a place in my career, where I am asked to speak around the country, judge massage competitions and attend in depth conferences on a variety of interesting subjects. I learn so much through these experiences, and want to be able to disseminate this knowledge to make it accessible to as many people as possible. If I go somewhere, or hear something that I know could be of interest to the community, I'll post about it, and share out the resources I picked up from the event, be it an interesting website, or a concept that is worthy of our attention, I make that information available. You might have seen my many postings about the myths and benefits of massage, or more specifically Oncology Massage, it sometimes can cause a stir but the important thing is that it starts a conversation that everyone can learn from in a safe environment. These conversations hopefully start to connect other therapists up both internationally and nationally, building a larger community, something that what would have been unthinkable a couple of decades ago.
Building Trust
Although my social media content is mainly for other industry professionals, having an active presence on social media is a way of letting clients know who I am, and what I'm about. This is a great way for anyone in the field who wants to build up trust with clients, old and new. I hope that some of my content encourages others with budding private practices to post out too, as a way of helping them engage clients, build relationships and develop confidence in their brand. I should be noted that it isn't easy to build brand loyalty. It will take time, and regular posting to achieve this. But using social media can be a tool to help you speed up the process. In order to retain interest from your clients, you do need to post out regularly, and I would be remiss not to say that this is one of the reasons I do it too. Our social media activity gives our clients a way to better understand who we are. I try to be as personal and friendly as I can on all of my platforms, so that my clients and others in the industry feel that they can get to know me and how I function and run my business. People want to be associated with a therapist that is reliable, therefore regular posting allows them to see what I am doing, that I operate fairly and am well informed.
Your Feedback
I would be really interested in knowing your views about the content of my social platforms. I am constantly striving to give all of my followers as much useful information and insight into the industry as I can. If there is something you would like to see more of, or have any opinion about what I post, please feel free to engage with me on the posts and let me know. Alternatively, you can email me asking for posts that will specifically help you and your massage career. I will do my best to accommodate and tailor my content.
My Final Thoughts
I did start this journey with a fair amount of resistance, hand on heart I understand that I this is the current form of communication that meets the need, but knowing this does not give me license to bombard people with hard sell tactics, it is not my style. My audience has taken many years to develop, a slow boil offers a stronger foundation, so don't expect your good reputation to form overnight, it can be hard fought and won with consistent perseverance, patience and client care.