I love cooking, and this is a recipe that came out of what I had in my fridge on the day. I have been asked to share this recipe with friends many times, it is such a healthy homemade meal that can tick every dietary restrictions box, just leave out the bits that don't work for you and it will still taste good.
There are some simple rules I follow when doing my food shop:
If it comes in a package, I do not buy it
If it already has been made and just needs the microwave, I do not buy it
If I cannot understand what the ingredients are, I do not buy it
I prefer to buy organic if there is a choice
Finally, I buy from local producers (I try to buy what is in season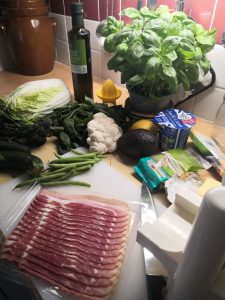 List of Ingredients
Pesto:
3 cups of fresh basil roughly chopped
1 lemon (the juice of)
1/3 cup of virgin olive oil (or ¼ cup)
4 heaping tbsp of pine nuts
4 tbsp of double cream
Meat choices optional:
1 package of smoked bacon or
2 handfuls of diced chicken
Vegetables choices:
What I choose varies, it depends on my weekly vegetable delivery from Riverford or what I have leftover in the fridge, lately it has been what my garden is producing (yum), typically I pick 2 of these:
Cauliflower (1/2 small head)
Green beans (1 handful)
Stem broccoli (6 spears)
Greens (about 2 cups chopped)
Main ingredients:
Courgette (1 large)
Avocado (1/2 of a large one or a whole small one)
Vegetarian parmesan cheese
Spinach (2 large handfuls)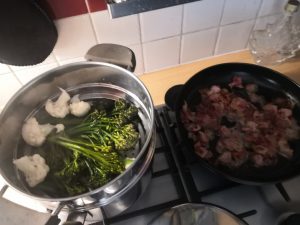 The method:
Put some water on to boil, to steam the vegetables while cooking the meat. I will start steaming the cauliflower and green beans first as they take longer to cook and then add the stem broccoli and/or greens. How soon you put them in depends on how crunchy you like your vegetables.
While the water is heating up I will start the meat (skip this option if you want a purely vegetable dish) I will cut up my bacon into smaller bits or use diced chicken. I will start cooking the meat while I am making the pesto and cutting up vegetables.
Combine all the pesto ingredients and combine to look like a paste. (not too dry it needs to spread)
Spiralize your courgette….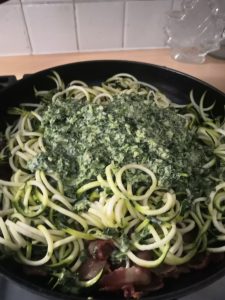 When your meat is almost done add the spinach (cook it until it starts to wilt), then add the pesto enough to soften it so when you add the courgette next it will spread through it. Keep it on the heat long enough to warm up the courgette without overcooking it. Then add your steamed vegetables to mix the flavours through them.
Put in a dish, top off with the diced avocado and sprinkle some parmesan cheese (sometimes I use feta) and voila, an amazing dish that is on my dinner menu at least once a week.
This usually makes about 2 portions (leftovers heat up nicely, I sometimes just cook up some fresh courgette to bulk it up and add the left-over portion from the day before to reheat it